Please join our Philanthropic Campaign #SurpriseaHero!
01.

State of Engagement in the US

Employee Engagement is the emotional commitment employees have to their companies and their goals.

Gallups's "State of the American Workplace" report shows that up to 70 percent of employees are disengaged in the workplace, costing companies $450-$550 billion annually from the following profitability drains:
Lack of productivity slows down the delivery of internal and external products and services
High turnover rates increase the costs of recruitment and training
There is a direct correlation between employee experience and increased retention, work effort, and performance
Graphic: How Employee Experience Correlates to Work Effort & Performance

02.

Workforce Alignment – The Upside in Healthcare

Only 34% of Americans are engaged at work.

Additional goal-directed behaviors to consider to ensure optimal healthcare workforce alignment:
The engaged hospital worker who makes eye contact with all visitors and escorts lost family members.
The engaged caregivers who never forget to wash their hands or check IV lines.
The engaged caregivers who listen, unrushed, as patients ask about their medications and discharge orders.
Engaged caregivers make fewer mistakes with the administration of medications.
Something to think about: In a Gallup study of 200 hospitals, the engagement level of nurses was the #1 variable correlated to mortality.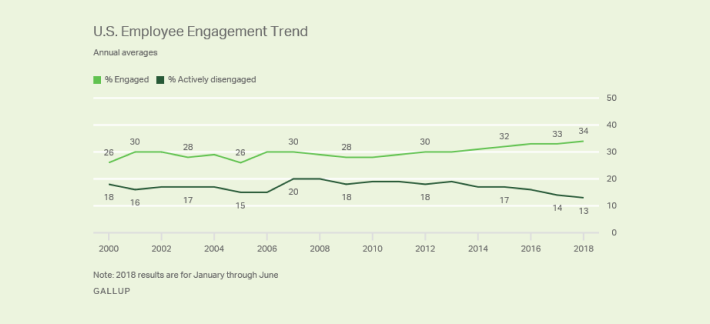 03.

The Business Impact of Workforce Alignment in Healthcare
According to the Forbes Engagement Health System Profit Chain flow chart, employee engagement improves patient satisfaction and clinical outcomes, while reducing HACs and staff turnover.

Given the impact employee engagement has on hospital system financials, Healthcare administrators and execs are thinking, "How can we improve employee engagement for better workforce alignment?"
Healthcare companies, these are the top 3 factors that make employees more engaged:
Recognition – you feel appreciated
Trust – you trust in the organization's bright future
Growth – you feel like you are advancing and learning new things
04.

Customer Success Story: Legacy Community Health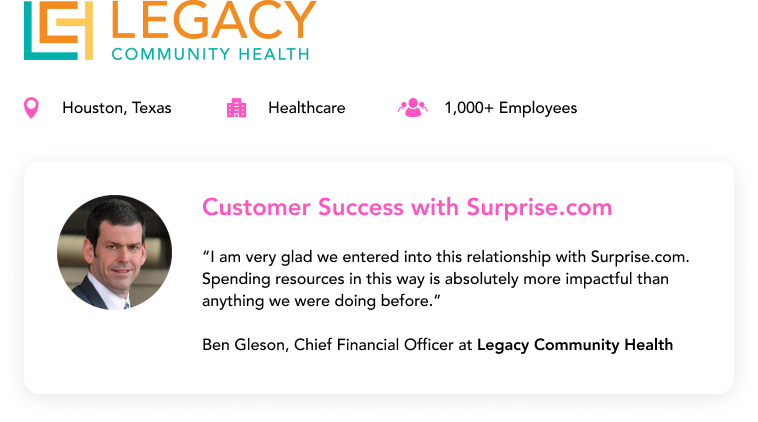 Challenge
Legacy Health has grown substantially in recent years, leading to newfound success and more patient enrollments. This growth has led to operational inefficiencies and "growing pains" for employees. Legacy recognized the need to acknowledge and celebrate their employee's hard work while motivating them to go further than ever before on a sustained growth path.
Solution
With cash bonuses failing to provide emotional impact, Legacy used Surprise.com to express gratitude to employees by thanking them at strategic times & celebrating employees who went above and beyond. Over time, Legacy will use Surprise to help maintain high employee satisfaction, reduce turnover and continue to strengthen the emotional bond.
Result
Employees are highly engaged with Surprise.com & excited to receive recognition from leadership. Surprise.com increased Legacy's engagement rate by over 60%.
"At the end of the day, you want your employees to be happy, and Surprise.com helps us to achieve that by making sure all of our employees know that they are valued," says Ben Glisan, CFO.
Twitter Snapshot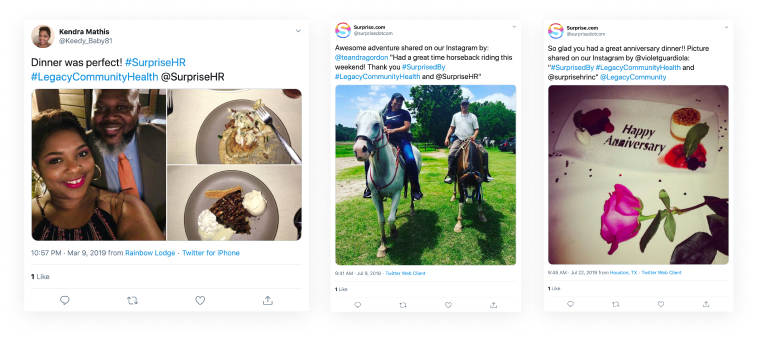 05.

What We Can Learn from COVID-19 To Change Things for the Better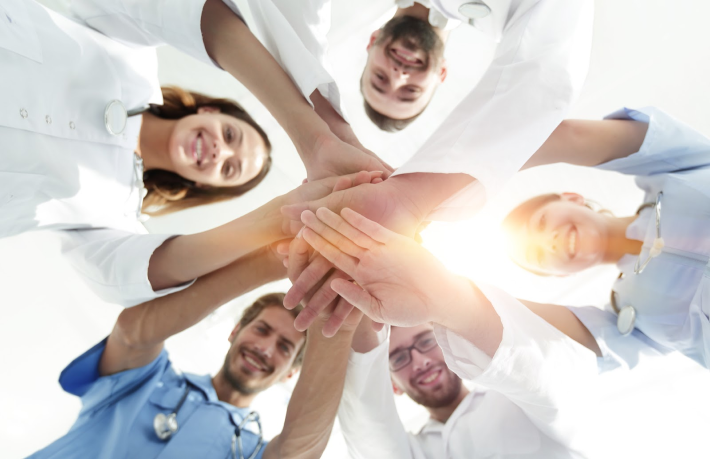 "We must accept our reality as vastly as we possibly can; everything, even the unprecedented, must be possible within it."— Rainer Maria Rilke
These are unprecedented times indeed, But if there was ever a time to look at the glass as half full, that time is now. The Coronavirus pandemic has certainly made it hard to be 'happy' when our worlds have been flipped upside down and things seem so uncertain. However, it is more important now than ever to align your employees for higher engagement and performance in these unprecedented times.
For many organizations, the Coronavirus is creating a giant, stressful experiment in working from home and straining overall workforce alignment. The outbreak has triggered an anxious trial run for remote work on a large scale. What we learn in the next few months could shape the future of remote work, which might have been inevitable, with or without this once-in-a-century compelling event.
In the coming weeks and months, organizations will learn about their employees in ways they have not had the ability to previously. True character, grit, and determination will shine through along with innovation and passion. What a great time to reinforce company values for goal-directed behavior.
Healthcare Industry Spotlight
Every company is being affected by the crisis, but there are some industries that seem to be changing permanently because of it. Aside from the 25% of the U.S. GDP economy currently shut-down, the industry most affected by this crisis in the immediate and long term horizon is the Healthcare industry.
Healthcare companies are on the front line of this crisis: treating the sick, paying for care, and seeking cures, even as they try to avoid disruptions to everyday medical services. This could have a direct and lasting impact on the health system in the form of supply chain disruptions, leading to drug and medical supply shortages, as well as long-term operational and financial challenges not yet expected.
Hospitals could theoretically benefit from the increased traffic, while simultaneously seeing revenues dip due to surgeries being canceled or other non-virus patients stopping treatment. One interesting statistic is more than three-fourths (76%) of U.S. providers already have 60 days or less cash on hand, and nearly a quarter (23%) are concerned about government reimbursement risks, according to BDO's Treating Healthcare Distress, a survey of 100 CFOs at mid-market healthcare providers.
For health insurers, a major player in corporate America, it would take a tremendously large COVID-19 outbreak in the United States for managed-care companies to be impacted. An analyst with Jefferies said the serious flu season that just passed had a negligible impact on the insurers.
For Drugmakers, the impact on the pharmaceutical supply chain has been worrying, to say the least. US Drug producers rely massively on ingredients made in Chinese factories, which could cause supply problems as the virus' disruption of the Chinese economy continues.
Take a look at this BDO graph below: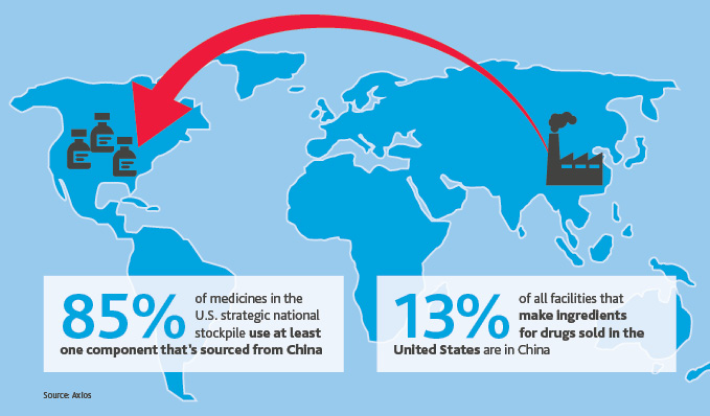 The unique relationship of the US-China political-economic dynamic will continue to be tested during this pandemic.
For Biotech companies, this is an incredibly exciting, albeit stressful time. Biotechs will be looked upon for the creation of a vaccine that prevents COVID-19. There may be no more important tool than this in the war against the virus, so research & development is soaring at these companies now. It's like a race to find the miracle cure with the winner not being any one company, but human civilization at large.
Celebrating Healthcare Workers
Healthcare workers, especially the ones in hospitals and health clinics, are the front line first responders to this battle, and they deserve daily and constant praise. To place yourself in constant danger to fight an invisible enemy is nothing short of heroic, and as a society, we need to recognize this by celebrating the Healthcare heroes.
If you want to do your part in helping recognize and acknowledge the brave work of healthcare employees, click Surprise a Hero.
Remote corporate healthcare workers deserve big praise too, as they are the logistical, operational and supportive backbone of our country's hospitals. Without them, our healthcare systems would cease to function properly or smoothly. They too need acknowledgment, and we all need to do our part in recognizing them.
The time to reach out to your loved ones and tell them you appreciate them is now, just like the time to tell your employees you value them and their contributions is now. Stay happy, healthy, and positive - this will turn around just as fast as it arrived.